Queen Victoria's golden jubilee in 1887 prompted the construction of the tower and spire. The belfry (bell tower) is above the Baptistry, housed in the lowest part of the tower, below the spire. The clock and four bells were installed in the belfry in 1893 and a further two bells were added in 1902 to mark the coronation of King Edward VII. The bells are inscribed with verses from the Bible.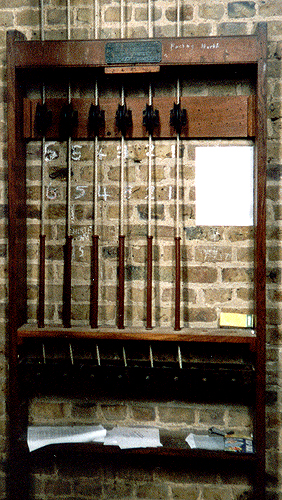 A stone spiral staircase of thirty one steps leads from the far right corner of the baptistry up to the lower part of the belfry where the bell-pulling ropes and the clock mechanism are housed. From this part of the belfry there is a wooden ladder leading to the clock chamber in the upper part of the belfry where the clock and bells are actually housed.
The ropes that ring the bells are pulled towards the ringer from the board (shown right). The bells have always been rung by the Ellacombe chimes method which is quite unusual. They are fixed and cannot be rung by swinging them on their axles. The six bells each have an inner clapper and these are operated by ropes which hang vertically to the chiming board below. Four of the bells have an additional outer clapper operated by wires from the clock, which automatically chime the hours and the quarters. Bells 3 to 6 are used for the automatic chiming of the clock, by external clappers at the back. The internal clappers on all the bells are for manual ringing. A single rope passing through the floor enables bell number 6 to be tolled from ground-floor level. See the Clock and Bells for information about the clock and bells.
The bells are rung to tell the hour, for all Sunday services, weddings, midnight mass at Christmas and to ring in the New Year. Additionally, they are rung on special occasions which may be personal (eg. wedding anniversaries) or national (eg. jubilees). Every year in July we hold a St James's Festival Weekend when visitors can try ringing the bells and climb the spire to admire the view; Wembley Stadium and the Shard are visible on a clear day. To find out about ringing the bells look at the page Bellringing.
From the clock chamber further wooden ladders lead to a wooden landing or viewing platform from which it is possible look out of window openings in all six faces of the spire.
The four clock faces show on the outside of the tower, one on each side. The windows in the tower do not have glass, but openings or louvres in the stonework so that the sound of the bells can travel.
Find out more
The Clock and Bells
Bells to chime around the World from New Zealand to Canada
The Ellacombe Apparatus
Bellringing
The History of St James's Church Buildings