The vicarage was built in 1937 and stands next door to the church and hall in St James's Road. It is a five bedroomed detached house that stands in its own large garden, particularly at the rear.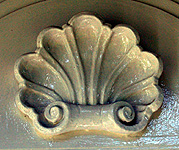 There is an extensive lawn, established flower beds and also a separate garage. Over the vicarage door is a cockle shell. Cockle shells were adopted as symbols of Saint James from Medieval times up until the present day.
The vicarage garden is a greatly valued amenity that is used for parish occasions as an outdoor space in which to congregate for special events, such as the summer party for St James's Day.
Maintenance and repair works were formerly undertaken by the Parsonages Board, but the PCC is now responsible for looking after the vicarage.
Find out more